This post contains affiliate links. If you click and buy, I may make a commission, at no cost to you. See my disclosure policy for more information.
We are about to start a new decade, and Christmas is over, so we have one week left to prepare some fun for all. New years eve is a time most will set new goals the following year ahead. Whether it is a small one or a big one, it is always more fun with a friend, so try to find a buddy this year to help you stick to your NEW year's resolution.
However, most New Year's Eve, I can not stay up past 10 pm because being a mom is exhausting. Here is an excellent list for if you decide to go out or stay in.

New Years Eve Activities
Look through old photo albums or pictures from throughout the year to reflect on accomplishments and special events. Before the clock strikes midnight, go through the smartphone photos and videos from 2020 and take a trip down memory lane. Chat about the good times and the bad, but revel in the fact that even in the bad times there was something to be gained. Can you find a few things to even laugh about? Maybe the fact that you still have toilet paper left from the scramble in March!
Play and remember the family's favorite games and toys.
Fill out printables with your goals and hopes from the new year
Watch family videos from the past years.
Have a family slumber party. Drag all the blankets and pillows into the living room and set up camp for the night. Rent movies to watch, play board games, and maybe let the kids pick out snacks that are normally off-limits. Have fun seeing who is still awake at midnight!
Dance Party. You can include some glow sticks to help burn off some excess energy too. Create a playlist of favorites or try this children's quarantine dance party list from Spotify. While you dance the night away, have a balloon pop countdown, or make and break a Times Square ball.
Dress Up. It doesn't matter if you are sitting in your living room. Put on your fancy dress, dress the baby up in frills or a cheeky New Year's onesie, a bow tie or crown, and have a celebration. Even if it's only for an hour—make that hour count.
Get outside. Get fresh air—and a fresh start to 2021—by spending some time outside. Go ice skating, try snowshoeing or take a winter wonderland walk to look at lights. If there's snow where you are, you can even build a snow fort, decorate a snowman or have a snowball fight.
Create your own family video, where you ask your children a few questions every year. Use the same questions yearly to document the changes
Decorate your house. Babies and toddlers love shiny objects (grown-ups do too!). Christmas lights, glittery paper shapes, and silver and gold streamers, or even a DIY piñata will make your at-home celebration stylish and small-child friendly. This adorable New Year's party for kids has the best inspiration.
Turn your Christmas Tree into a Resolution Tree. Putting away the Christmas decorations can be a bittersweet activity. Instead of taking down all of the decorations, just take down the ornaments. Have kids write down resolutions like eating healthier or getting good grades and tie these to the tree. Now your Christmas tree is a Resolution tree!
Do a balloon drop at midnight or before.

I'm happy to do an early celebration with all the little ones.

  This year, I'm making my own balloon drop.  

It's so easy and it takes only 5 minutes to put together.

Do puzzles.

Places to Visit for New Years Eve
Time Square in New York City. I am sure this is obvious because it looks impressive to see it on TV every year and watch the ball drop.
Walt Disney. Their parks put on a New Year's Eve Party that is beautiful and memorable. Don't forget about Disney Cruise Lines too! Where they have deck parties and so much for all ages to experience and welcome in the new year.
Panama City Beach, Florida. The seaside town celebrates New Year's by dropping not just one ball, but 10,000 inflatable ones. And the beach ball drop starts at a kid-friendly at 8 p.m. Those with the energy to make it until midnight can count down another ball drop, this one an 800-pound LED-lit one, also shaped like a beach ball.
Hershey, Pennsylvania. For a chocolate-flavored New Year's Eve kiss, head to Hershey. The action starts with a bubble-wrap stomp and includes teen rock and pop performances during the day. At midnight, a  300-pound, 7-foot Hershey's Kiss descends from the sky in ChocolateTown Square.
Austin, Texas. This live music capital of the world hosts a giant New Year's Eve hoe-down featuring four stages. There is a kids' area with activities and food. Fireworks start in the even and last 30 minutes or longer.
Santa Fe, New Mexico. Throughout the holiday season, they have lights at the Botanical Garden and a year-welcoming gathering in the city's historic plaza. The garden hosts a children's New Year's Eve party, with a flower petal drop, while the crowd in the plaza includes piñon bonfires, hot chocolate, and traditional biscochitos cookies. Guests can sign a memorial banner recording their hopes and wishes too before fireworks at midnight.

Kid-Friendly New Years Eve Crafts
Create a time capsule, need ideas of what to stick inside? Click here
New Year's Eve Wishing Tree – From No Time For Flash Cards
Sparkler Firework Craft – From Kids Craft Room
New Year's Party Horn Photo Props – From Pink Stripey Socks
Fireworks in a Jar – From I Can Teach My Child
Countdown Clock Craft – From Buggy And Buddy
Pop-Up Homemade Firework Craft – From Kids Craft Room
Coffee Pod Confetti Poppers – From The Tiptoe Fairy
Glittery New Year's Ball Playdough – From Homegrown Friends
Confetti Eggs – From Radmegan
Kids New Year's Glasses Craft – From Artsy Momma
New Years Bubble Wand – From RedTedArt
Paper Plate Noise Maker – From Kix
DIY New Year's Photo Props – From Artsy Momma
Celebration Playdough Recipe – From Buggy And Buddy
New Years Eve Family Tradition – From Hodge Podge Craft
New Year's Eve Countdown Activities – From East Coast Mommy
New Years Eve Family Activities – From Craftibilities
Memory Scavenger Hunt – From No Time For Flash Cards
New Year's Crown – From Partying with Unicorns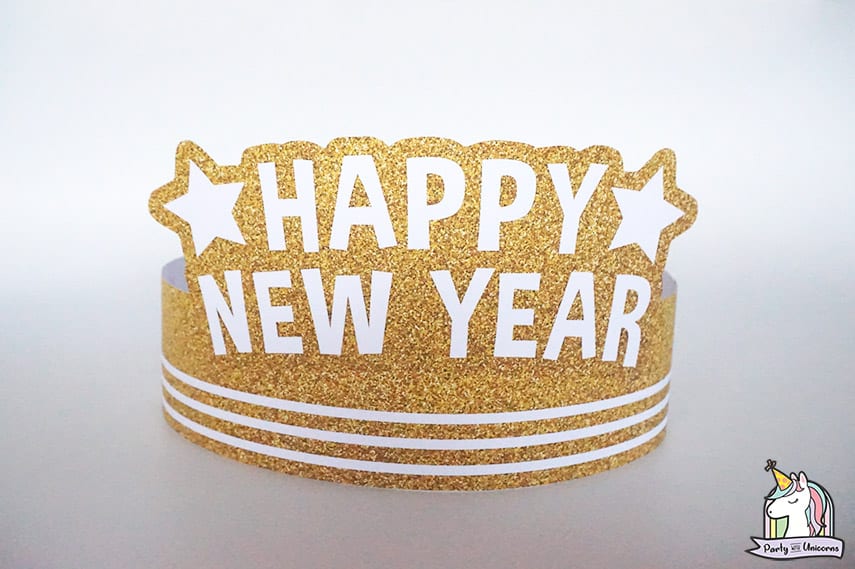 New Year's Around the World Traditions:
Southern Tradition: Eat black-eyed peas on New Year's Day.
Spanish Tradition: Eat 12 grapes at midnight – one at each bell strike – for the year's prosperity.
German Tradition: Make little piggies out of Marzipan to give away.
Argentina Tradition: At exactly midnight, step forward with your right foot to start the year off.
Denmark Tradition: Stand on a chair and jump down from it as the clock strikes midnight.
Iceland Tradition: They have a ban on Fireworks, but for one night only on New Year's Eve, they lift it.
I hope you enjoy New Year's Eve and always be safe!
Sincerely,