This post contains affiliate links. If you click and buy, I may make a commission, at no cost to you. See my disclosure policy for more information.
Two types of twins, Identical and Fraternal, are the most commonly recognized. However, seven others are less common, such as Half-Identical, Mirror Image, Mixed Chromosome, Superfecundation, Superfetation, Conjoined, and Parasitic. Today we will go over the differences to help us all understand all the various types of twins.
Common Types of Twins:
Fraternal
These twins are born at the same time but are formed in utero as two separate eggs fertilized by two separate sperm. They can be male and female or both of the same sex. Often they have different blood types that can easily be determined. Fraternal twins can share many similarities in appearance, just like any brother or sister of the same family.
Identical (Monozygotic)
Identical twins result from fertilizing a single egg that splits into two. They share all the same genes and are always the same sex.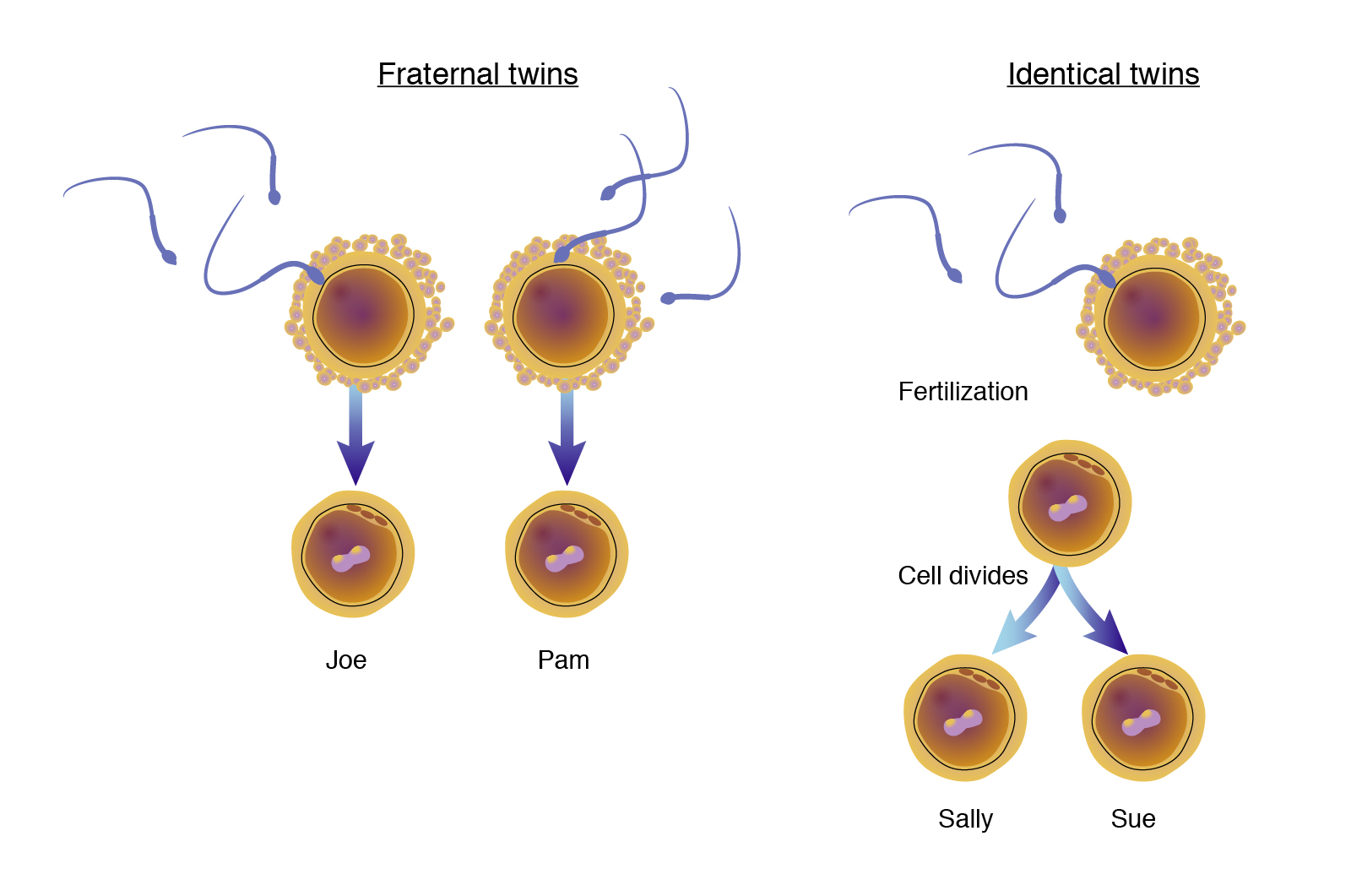 Non-Common Types of Twins:
Mirror Image
These twins are monozygotic like identical twins, but will often have "mirror images" of their features. It can include hair whorls that run clockwise in one and counterclockwise in the other, a birthmark on the right shoulder of one and the left shoulder of the other, one twin being right-handed. At the same time, the other twin may be left-handed, etc. There is no specific test for determining if twins are mirror-image. The determination is made by observation only.
All monozygotic twins develop when one egg is fertilized by one sperm to produce a single zygote. The zygote starts to develop into an embryo, but at the same time, during the first two weeks after conception, the embryo splits into two identical parts. These twins share 100% of the same genes and are always the same sex.
Half-Identical
These types of twins are sometimes referred to as semi-identical or sesquizygotic twins. It occurs when the egg is thought t be fertilized by two sperm before it divides. If one egg is fertilized by two sperm, it results in three sets of chromosomes, rather than the standard two, one from the mother and one from the father.
They share some features of identical twins and some features of fraternal twins and thus are called half-identical twins.
Mixed Chromosome
It occurs during pregnancy when it starts as a set of fraternal twins, but as it progresses, the two fertilized eggs merge into one, resulting in a person with two distinct sets of DNA. Some have been identified to have more than one red blood cell type and individuals who are both XX (sex chromosomes for females) and XY (sex chromosomes for males). It is very rare, and less than 25 cases have been identified as yet.
Superfetation
Superfetation is the occurrence of another pregnancy during an ongoing pregnancy. It happens when an ovule is fertilized by a sperm cell while a conceptus is already present in the womb.
The fetuses develop simultaneously; however, they differ in maturity as they are conceived days or even weeks apart. It is often observed in animals but is exceedingly rare in humans, as only a few cases have been documented.
Superfecundation
It often occurs with the fertilization of two or more ova from the same cycle but from separate acts of sexual intercourse, which can result in the twins having different biological fathers. One well-known case was described in 1810 in the United States. A woman had a white and a black lover, and she became pregnant and gave birth to twins, one white and the other black. Each twin had a different father.
Conjoined Twins
These are two babies that are born physically connected, most often at the chest, abdomen, or pelvis, and may also share one or more internal organs.
Per the Mayo Clinic, many conjoined twins are not alive when born or die shortly after birth. Due to the advancement in technology and surgery, survival rates have improved. Some surviving conjoined twins can be surgically separated. The operation's success can vary on where the twins are conjoined, how many and which organs are being shared, as well as the experience and skill of the surgical team.
Parasitic Twins
They are a type of conjoined twins that are extremely rare. It occurs when the process of separation doesn't fully happen. It usually occurs eight to twelve days after conception. They often develop where there develop asymmetrically, with a smaller, less formed twin on the strong, larger twin. The stronger twin is referred to as the auto-site twin, and the one that doesn't develop is called the parasitic twin.
They differ from conjoined twins in that one twin fails to develop fully, perhaps due to a degeneration of the umbilical cord. This condition is so rare that it is still not fully known what might be a risk factor.
One example is Manar Maged, who was featured on The Oprah Show.
In conclusion, isn't it interesting that there are nine different types of twins? However, there are several that are uncommon, but they still occur. I sincerely hope you enjoy this education, and please share it.
Sincerely,